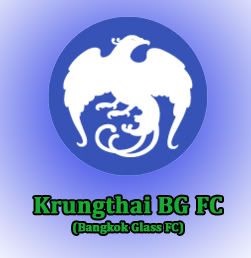 Here come Queen's cup champions, Krungthai BG FC

Updated: 19 February 2010
Krungthai Bangkok Glass FC
made their new history, grab
34th Queen's Cup trophy
for a very first time, after easy victory over
Insee Police United
4-1 on Feb 18, at IPE Chonburi stadium.
First half is quite an even game. Both teams have chances to score but the keepers are doing well to keep a clean sheet. Just few minutes before break, referee dismisses 1 from each side. Rabbit's striker
Ney Fabiano
clashed with Cop's centerback
Payungsak Pannarat
. Half time score 0-0.
Second half,
Ajayi Gbenga
comes in to replace
Saran Promkaew
and then makes magnificent change to the game. In 48th minute of the game, first goal arrives when he passed to
"Paul" Bekombo Ekollo
scores, 1-0 for Krungthai BG. Then explosive winger
"Anawin Jujeen"
scores 2-0 in 53rd minute.
Police United also fight back and
Tanapat Na Tarue
scores 1-2, 9 minutes later. But
Anawin
make a further gap by scoring 3-1 in 65th minute. Finally,
Ajayi
made it secured when scores in 75th minute, 4-1 for final score.
Krungthai BG
grab the trophy for the first time in club history after founded in 1977.
Tournament summary:

Champion:
Krungthai Bangkok Glass FC
Runner-up:
Insee Police United
3rd place:
Chonburi FC & Navy Rayong FC
Best player:
Amnaj Kaewkiew (Krungthai BG FC)
Best coach:
Surachai Juturapattarapong (Krungthai BG FC)
Best manager:
Supasin Leelarit (Krungthai BG FC)
Top scorer:
Ludovick Kengne (Pattaya United)
Queen Stars – Dream Team award:

Chalermkiat S.

(Police Utd)



Surachart S.

(Police Utd)
Amnaj K

.(Krungthai BG)
G. Yannick

(Navy)
Supachai K.

(Krungthai BG)
Sutthinan N.

(Navy)
Tanapat N

.(Police Utd)
Anon B.

(Krungthai BG)

Sutee S.

(Krungthai BG)
Ekaphan I.

(Chonburi)
Bekombo E.

(Krungthai BG)